Focus On: Pride
A special online screening of
Eat the Rainbow
June 25-27
MIAMIsFF Presents: Eat the Rainbow | A special online screening for Pride Month | June 25-27
Directed By: Brian Benson
Starring: Cousin Wonderlette (Benson), H.P. Mendoza, Lady Bear, April Kidwell, Dolores Huerta, Jason Brock, Robert Caruso
Musical Comedy | USA | 19 minutes
Tickets on sale June 18 ($10), streaming starts June 25.
EAT THE RAINBOW is a musical fable about an odd yet kind man named Bayani (H.P. Mendoza) with blue skin who moves into a conservative suburban neighborhood and disrupts the otherwise comfortable homogeny. He doesn't look or act like anyone else in the neighborhood which causes fear and panic and eventually a demand for him to leave. Cousin Wonderlette, who only sees kindness in others, befriends Bayani and together they take on the aggressive neighborhood mob led by capitalistic realtor and neighborhood bully Lobelia Gerber (April Kidwell).
DIRECTOR'S STATEMENT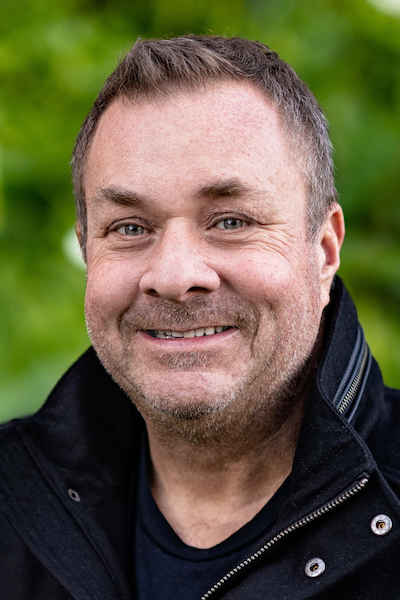 EAT THE RAINBOW is my 10th film in an award-winning short film series about Cousin Wonderlette and is quite a departure from the other films. While the previous films have relied on a shocking and provocative sense of comedy, this film is more of an emotional musical love story and social commentary with comedic elements.
Set in a bizarre world, the film examines blind intolerance, and comments on race, sexuality, gender identity, religion, feminism and capitalistic greed and in a playful but earnest way calls attention to the inherent absurdity of it all. With gender fluid casting, two non-binary characters, several gay characters and a cast with a rainbow of skin colors (literally), the film takes the viewers on a funny, bittersweet, magical ride ending in an upbeat and joyous musical finale.
After having been a producer on the documentary "Dolores" and on Boots Riley's critically-acclaimed hit film "Sorry to Bother You", and honestly after living in today's world, I was compelled to write a script that mocks the ridiculousness of the divisions in our country today, while adding a colorful ray of sunshine and hope.
MIAMIsFF will be hosting a Facebook Live Q&A with Brian Benson – date and details to follow.