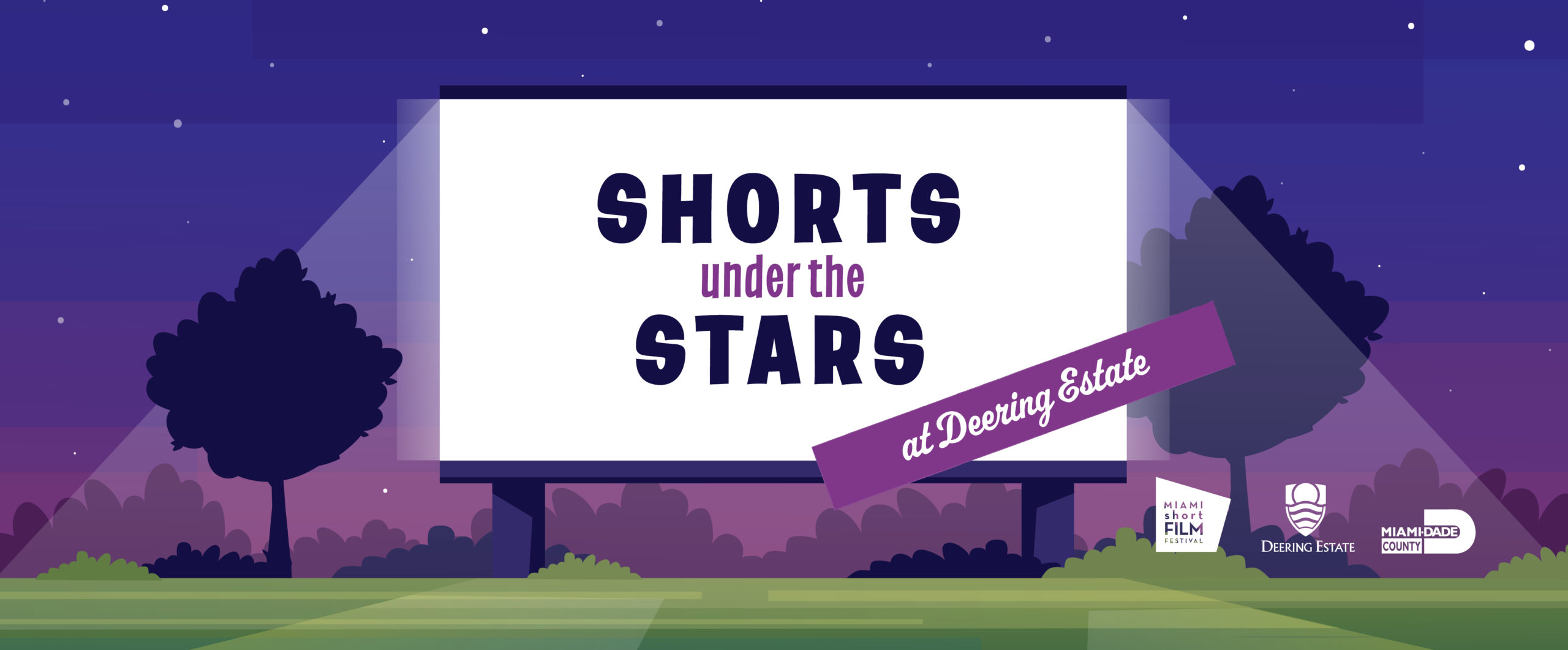 SHORTS UNDER THE STARS AT DEERING
Next Event: Sunday, June 13th | Showtime 7PM
We are bringing our signature outdoor programming to the beautiful backdrop that is Deering Estate.
Enjoy the stunning views and exquisite sunset at Deering, then grab a spot and watch our selection of shorts on the lawn. Guests are welcome to bring blankets, lawn chairs, and small picnic baskets. Please note that the following items are not permitted: large coolers, open flames/candles, balloons and pop-up tents/umbrellas.
Early access begins at 5:30 pm
Screening at 7 pm
Tickets: $20
Deering Estate and MIAMIsFF are committed to following all necessary social distancing regulations and sanitary precautions. Guests must practice social distancing, wear face coverings, and are not allowed to gather in groups larger than 10 people.
JUNE PROGRAM – AMPLIFYING BLACK STORIES
ME TIME
Dir. Iyabo Boyd – Narrative – 11:00 Min – USA
Deborah, a young professional black woman, is wound up after a hectic workday and is thinking about how to decompress. After plopping down on her bed, one part of her inner psyche, Sexy Deb, appears and tries to bully her into going out to a bar for a hook-up.
---
FIRST DAY BACK
Dir. Deshawn Plair- Narrative – 21:00 Min – USA
It's the first day back at school for the faculty and students of Lincoln High School in Philadelphia, after a fight between two students from rival neighborhoods resulted in the death of a fellow student, left others injured and changed the community forever. Everyone struggles to adjust to the new normal.
---
MEG'S FIRST DANCE
Dir. Ada Gorn – Narrative – 9:30 Min – USA
Meg, 17, develops feeling for her best friend, Phoebe in this quirky coming of age film. The style is "Love Simon" meets David Lynch. Meg has to come to terms with her feelings, despite nightmares, a judgmental mother, and a tempting unrequited crush.
---
---
ACHE
Dir. Sharkey Weinberg – Narrative – 14:36 – FLORIDA (USA)
The world around her has moved on, but L'Toya has not. She is still grieving the loss of her boyfriend. In an act of desperation, L'Toya seeks out a Psychic to lead her in a seance in an effort to find some sort of comfort and relief in her life.
---
EASY LIFE
Dir. Boris Diaw – Narrative – 11:48 – USA
The story of a dad attempting to make his rebellious kid understand how easy his life is compared to some other kids in the world. To get his message across, he tells a vivid story of a little kid in Africa being turned into a child soldier. Starring Cedric the Entertainer.
---
TURF NATION
Dir. Jun Bae – Documentary – 13:27 Min – USA
Turfing is an Oakland-born dance form that combines roots in gang culture with elements of tutting, gliding and bone breaking; Turf Nation follows the street dancers perform on BART (Bay Area Rapid Transit) trains, as they pave their own paths towards freedom and independence.
---
TICKETS AVAILABLE ONLINE NOW
SPACE IS LIMITED, WE ENCOURAGE YOU TO RESERVE YOUR TICKETS ONLINE